I found two additional IBM ServeRAID cards on a Swedish forum at a price too good to pass on. These were server pulls and did not have any PCI bracket. I had a box of old computer parts and found two Firewire cards which had one hole that fit the M1015 card. This is good enough and better than paying $10×2 for two brackets on Ebay. As for the cables, my previous experience with Deconn, also on Ebay, was only positive and I ordered 4 cables to fully equip the new cards.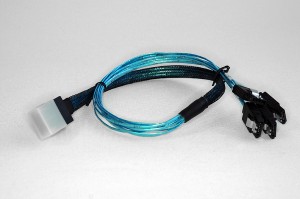 Of course, the first thing I did was to flash the cards to the latest LSI P16 firmware. This time around though, I flashed one card with the IT firmware and omitting the BIOS, and the other with the IR firmware with BIOS. The IT firmware just pass on the disks to the OS while the IR firmware makes it possible to setup RAID 0, 1 or 10 as well as passing on non-RAID disks to the OS. This combination of RAID and pass on disks is something the IBM firmware cannot do.
As soon as I get some decent disks I will see how the card behaves in a Windows computer.